2002-3 Pigskin Leather Work Gloves. Sold by each- 3 Pairs
Availability:
Uusually ships within 2 business days.
Shipping:
Calculated at Checkout
About this item
Premium quality pigskin leather: The 2002-3 Pigskin Leather Work Gloves are made of premium quality pigskin leather, which is known for its durability, flexibility, and comfort. The leather is soft and supple, providing excellent grip and dexterity for a variety of tasks.
Reinforced knuckles: The gloves feature reinforced knuckles that provide extra protection and durability in high-stress areas, ensuring that the gloves hold up well even in tough working conditions.
Breathable design: The gloves are designed to be breathable, allowing air to circulate and keeping your hands cool and comfortable even during extended use.
Sold by each: Each pair of gloves is sold individually, making it easy to order just the right amount for your needs. Whether you need a single pair for a small project or multiple pairs for a larger job, you can easily order the quantity that you require.
Sold by 3 pairs: Each order includes three pairs of gloves, providing you with plenty of gloves to keep on hand for future use or to distribute to a team of workers.
Bulk Pricing
Below are the available bulk discount rates for each individual item when you purchase a certain amount
Buy 12 - 23 and get 10% off
Buy 24 - 47 and get 12% off
Buy 48 - 479 and get 14% off
Buy 480 or above and get 30% off
2002-3 Pigskin Leather Work Gloves. Sold by each- 3 Pairs
G & F Products Gloves Full Grain 2002S-3, Unisex White Leather Gloves
They are perfect for any DIY projects, farming, and other outdoor activities that require hand protection.
MATERIAL: Made from genuine full-grain pigskin, these gloves are comfortable and durable, providing superior abrasion and puncture resistance to protect your hands
DESIGN: Featuring a reinforced palm patch design, these gloves offer excellent grip and durability on key points. The stretchable wrist makes it easy to try on and off, while also keeping dust and debris out of the gloves during work.
DETAILS: With soft and thick pigskin material and excellent stitching, these gloves have an ergonomic curved design that fits comfortably and won't deform. They are also foldable for easy storage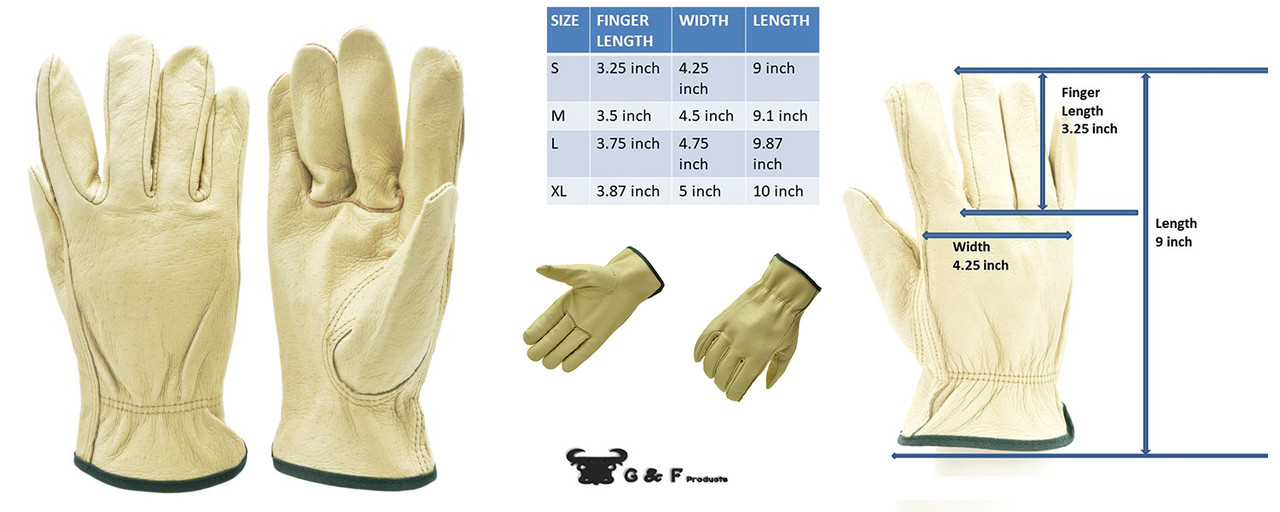 Features and Further Details
MULTIFARIOUS: Ideal Accommodation for Males & Females, these pigskin work gloves appropriate for Construction, Yardwork, Chauffeur, Gardening, Husbandry, Landscaping, Do-It-Yourself tasks, Woodcutting, and so on.
MATERIAL: Genuine Full Grain Pigskin, natural tanning, Comfortable and Durable. Superior abrasion and puncture resistance provides optimum protection for your hands.
DESIGN: Reinforced Palm Patch layout on the essential point, Enhance Outstanding Grip and Durability. Stretchable Wrist, simple to place on and off, and also dirt quit during the workplace.
DETAILS: Soft suitable as well as thick pigskin material, Exceptional sewing process, Ergonomic curved design, make these gloves a lot more optimal, Foldable, and also not deform.
GENTLE LEATHER: These places are popular for premium natural leather as a result of the ideal climate and also sophisticated feeding approach for the animals all this adds to why the gloves are soft and also exquisite naturally.
Ideal for drivers, auto industry, utility workers, warehouse
G & F 2002-3 Full Grain Pigskin Leather Work Gloves
G & F leather Work Gloves with Grain Pigskin, Keystone Thumb, Leather Bound - Grain pigskin full leather glove. Keystone thumb for better fit and comfort. Shirred elasticized wrist keeps out dirt and debris. A basic drivers style full leather glove.
Straight thumb design
Washable Leather
Elastic shirred back featured on this style holds gloves securely on hand